INTRODUCTION
The Habitat Costa Rica Annual Newsletter offers you a short summary of what the National Office has planned for 2002 and an in-depth review of what the regional affiliates have accomplished in 2001.  The first two pages are dedicated to projects and programs to be implemented on a national level in 2002.  Subsequent pages include one or two page summaries of the most important events that took place at our five regional affiliates in 2001.  You will read testimonies from Habitat Costa Rica families and volunteers, which provide a clear picture of how Habitat has changed their lives for the better. We dedicated this newsletter to all the Habitat Costa Rica families, volunteers, and donors  who have given much of their time and treasure to help us help others in Costa Rica.
Habitat Costa Rica will build 20 houses in one week during "Viviendo Tu Fe," a blitz build scheduled the week of March 24th – March 31st, 2002. Several hundred energetic international and local volunteers will travel to San Ramón, Nicoya, Esparza, and Cartago to build 20 houses  in one week.  Many local churches have also committed to sending their members to volunteer at construction sites countrywide. Hundreds of volunteers from different ethnic, religious, and socioeconomic backgrounds will soon come together in solidarity to build homes for needy families. 
BUILDING DREAMS FASTER
WITH NEW TECHNOLOGY

A group of architects and engineers from the Technological Institute of Costa Rica in Cartago recently developed a pre-fabricated home that is more structurally sound and labor efficient than traditional homes made of concrete block. After conducting a thorough study, Habitat Costa Rica has committed to offering a HABICON home design as another option for families in Monteverde. Because of its versatility, pre-fabricated homes made with HABICON are being considered in San José, Buenos Aires, and Rio Claro once these regions are approved to become Habitat Costa Rica affiliates.
Homes made with HABICON are constructed in less time and are more durable than traditional homes, but the construction process is radically different. Special equipment at an off-site facility pours concrete over a wire mesh to form panels. The finished concrete panels are then transported to a work site where they are fitted together like a jig saw puzzle, and then reinforced with wood and cement joints.
HABICON houses are an attractive alternative to traditional block homes for the following reasons:
-Attractive design that compliments its surroundings
-Efficient distribution of living space for families
-Design proven to be more earthquake resistant
-Shorter construction period of 4 to 6 weeks, but there is still much work required of volunteers and families
-Flexibility to build on steep slopes or in flood prone areas because foundation does not touch the ground
-Environmentally friendly because the land is not
disturbed to form the foundation and timber for the
trusses comes from tree farms instead of virgin forests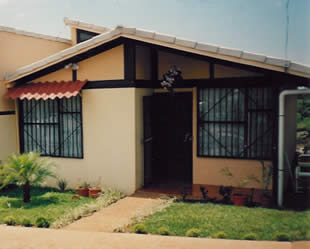 HABICON model home located in Cartago, Costa Rica.